I am a self-taught artist living in Andalucia having moved from Sheffield to Spain in 2020. I love the outdoors and can now swim in the sea and walk in the mountains regularly as both are only a few minutes from my home in the beautiful pueblo of Torrox.
It is exciting to see how living in Spain will impact my art. The intensity of the blue sky in Andalucia is so affecting and literally soothes my autistic brain. I have no doubt it will find it's way into many more of my paintings to come.
Despite being passionate about art when young, I made a conscious decision as a teenager not to go to art school, sensing that I would be challenged in ways that could pit me against my creativity and damage that relationship. Instead I chose to become a nurse – a most unlikely decision at the time but one which brought me more experience, skills and self-insight than I could ever have anticipated. I worked in the NHS for twenty years, latterly within surgery and surgical education research, leaving this very fulfilling career to pursue my art in 2011. It was a purposeful decision, even though I had not painted since leaving school. Painting has been core to my life ever since. 
I was confirmed to be autistic in 2016 at the age of 46. Understanding my autistic nature has been life-changing for me. I love to be social but spending a lot of time on my own is essential for my well-being. My studio paintings often take 
me hundreds of hours of precise painting and I see this time at the easel as a natural expression of my unique autistic nature.
Below are some of my words about the lengthy process of these studio paintings:
"The paintings have a very graphic quality on first impression. The process involved in achieving their finished state is not at all obvious and can be rather surprising to the viewer. With no pre-drawing, they begin with very free strokes of translucent paint to resolve the composition. Increasing layers are applied and built up with a small brush to obtain both opacity and the tight meeting of colours. The palette is less extensive than the eye registers due to the interaction of adjacent colours. These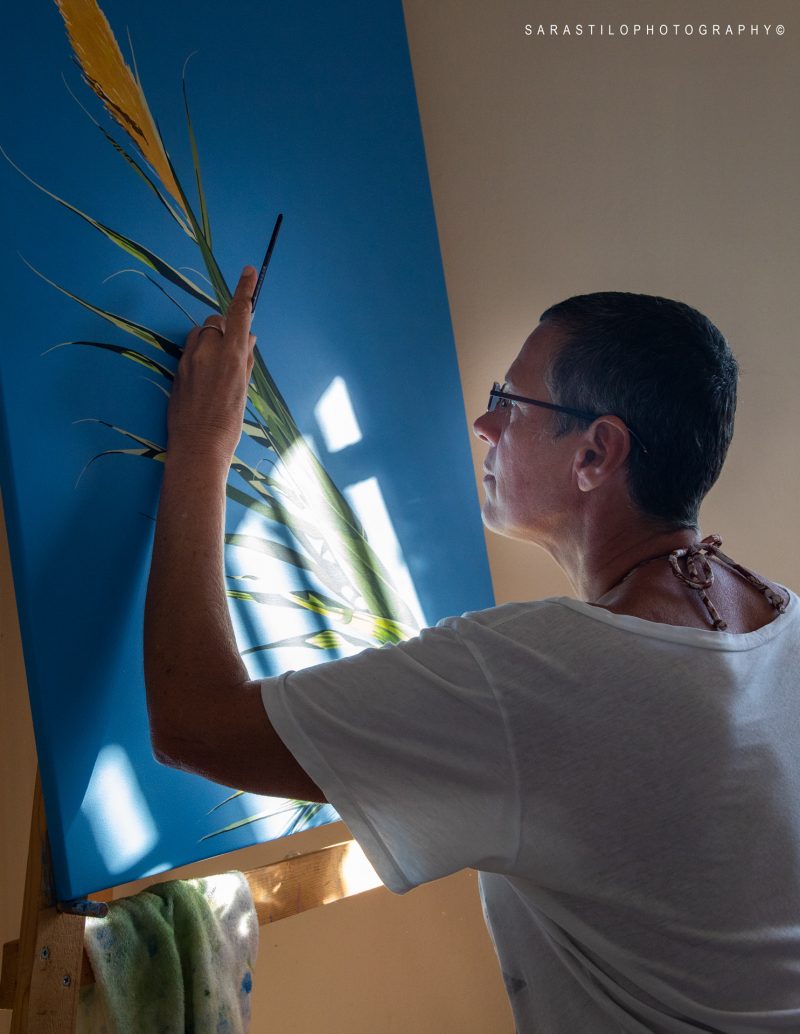 effects are further intensified by the very flat application of paint such that no brush strokes are visible on the canvas. The paintings move between representation and abstraction as one's attention is drawn in turn by the seen experience evoked and by the interaction of the colours themselves."
As well as painting in my studio, I also enjoy painting and drawing outdoors 'plein air'. These paintings are very different in many ways from my studio pieces, being gestural and somewhat naive-looking. However, the similarities are evident too as my interest in colour, tone, composition and form are ever-present. 
Drawing is also part of my practice and I have produced two books of drawings, one of which is a colouring book of my life as an autistic woman and the other a collection of drawings I made whilst sitting within the operating rooms of a hospital in Sheffield.
I am passionate about people understanding their own and other's autistic reality, facilitating on-line workshops in 'Creativity, Well-being and Lived Autistic Experience'. Do contact me if you would like to know more about this work.
Many of my paintings and drawings have sold and are held within private, public and corporate collections worldwide. All enquiries regarding my practice and individual works are very welcome and can be made using the 'Contact' page.